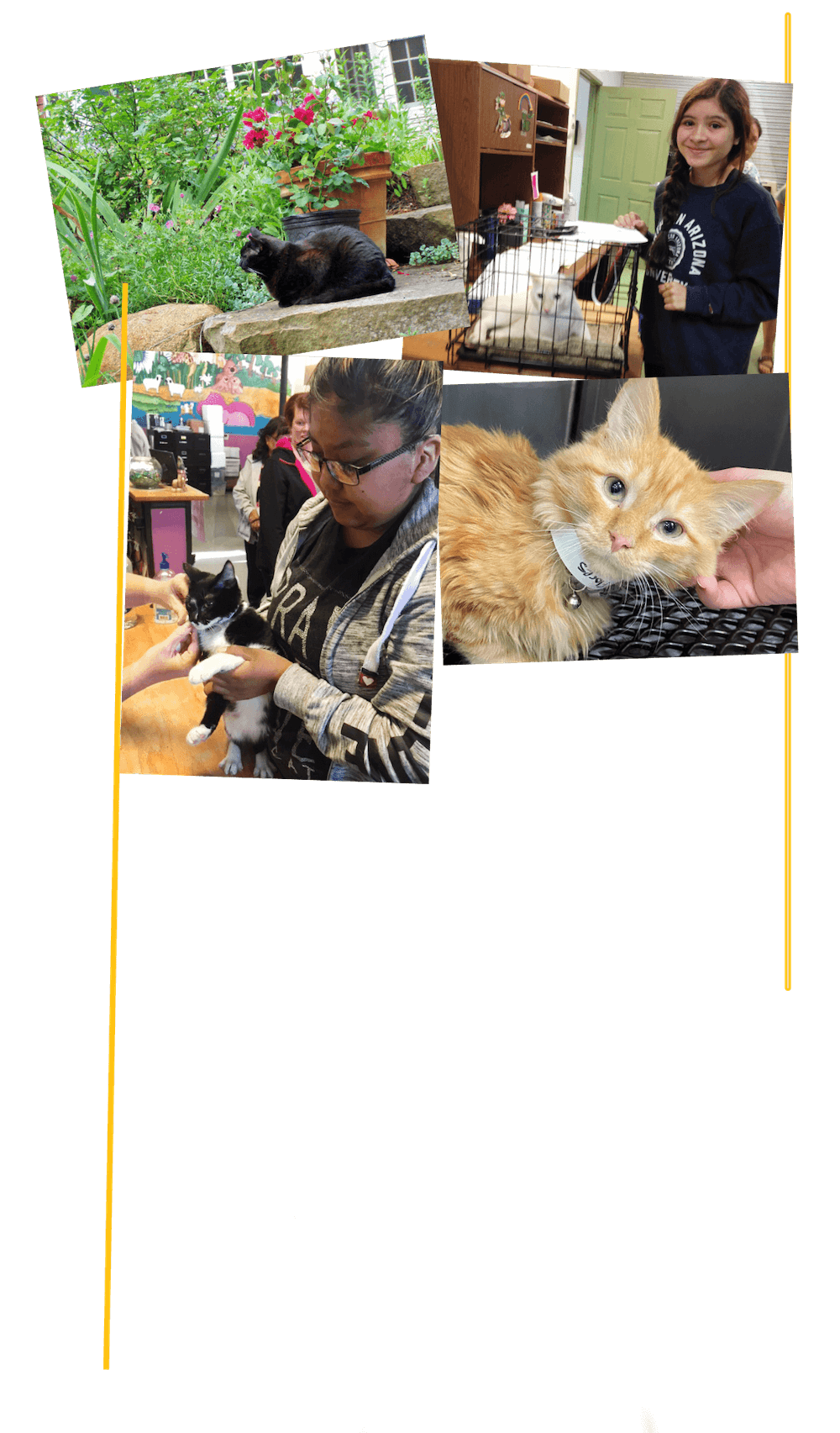 When You Call
We take applications and answer questions by telephone during our weekday business hours. You can also text or e-mail us but please include your phone number.
CONTACT INFORMATION
Zimmer Feline Foundation
P.O. Box 6815
Santa Fe, NM 87502
Phone: 505-466-1676
Fax: 505-466-1189
Email: TheLoveOfCats@comcast.net
EIN: 46-2082969
"We wanted to send our heartfelt gratitude for allowing Cutie-Face a spay, chip and vaccinations. She appeared on my porch as a kitten last Spring -- feral, beautiful long hair tabby like the picture on your Zimmer Feline Poster. She purrs for just about everything!"

—Martha• Placitas, NM
Spay/Neuter & Veterinary Care Applications
For New Mexico Residents Living In Our Service Areas
SPAY/NEUTER VOUCHERS
We take the application from the head of household where the cat lives — the adult named on the lease or title.
When you call to apply, we will ask for your contact information (mailing address, physical address, and phone), the names of other adults living at the same address, and a rough idea of your gross household income. We will also ask for a summary of all the cats in your home – fixed or not fixed. Most applications are quickly approved, and vouchers mailed within a few days.
So, if you do not receive a voucher within a week, you will need to call us again to follow up. This could happen for a variety of reasons. The voucher could be lost in the mail or returned to us from the post office for a better address. Or we could have run into a question or a concern that may require you to email us supplemental information. Or, we may not have approved the application and if that is the case, we will explain why when you call.
We do not contact you to discuss these issues but rely on your one-week follow-up call instead.
VETERINARY CARE VOUCHERS
These vouchers are e-mailed directly to the vet clinic while your cat is there being spayed or neutered.   And cover minor health issues the vet identifies during the pre-surgery exam.
For approval, we will need a photo of your cat and the clinic's detailed estimate of the additional cost.
Veterinary Clinic Registration
Simply fill out our veterinary clinic registration and e-mail or fax it to us. We will contact you when we have received it.
Download Registration Form
Nonprofit Spay/Neuter Registration
To participate in our non-profit, spay/neuter reimbursement programs, call or e-mail us with a summary of your existing program including your service area, pricing, and anticipated annual spay/neuter volume. We will give it our consideration.