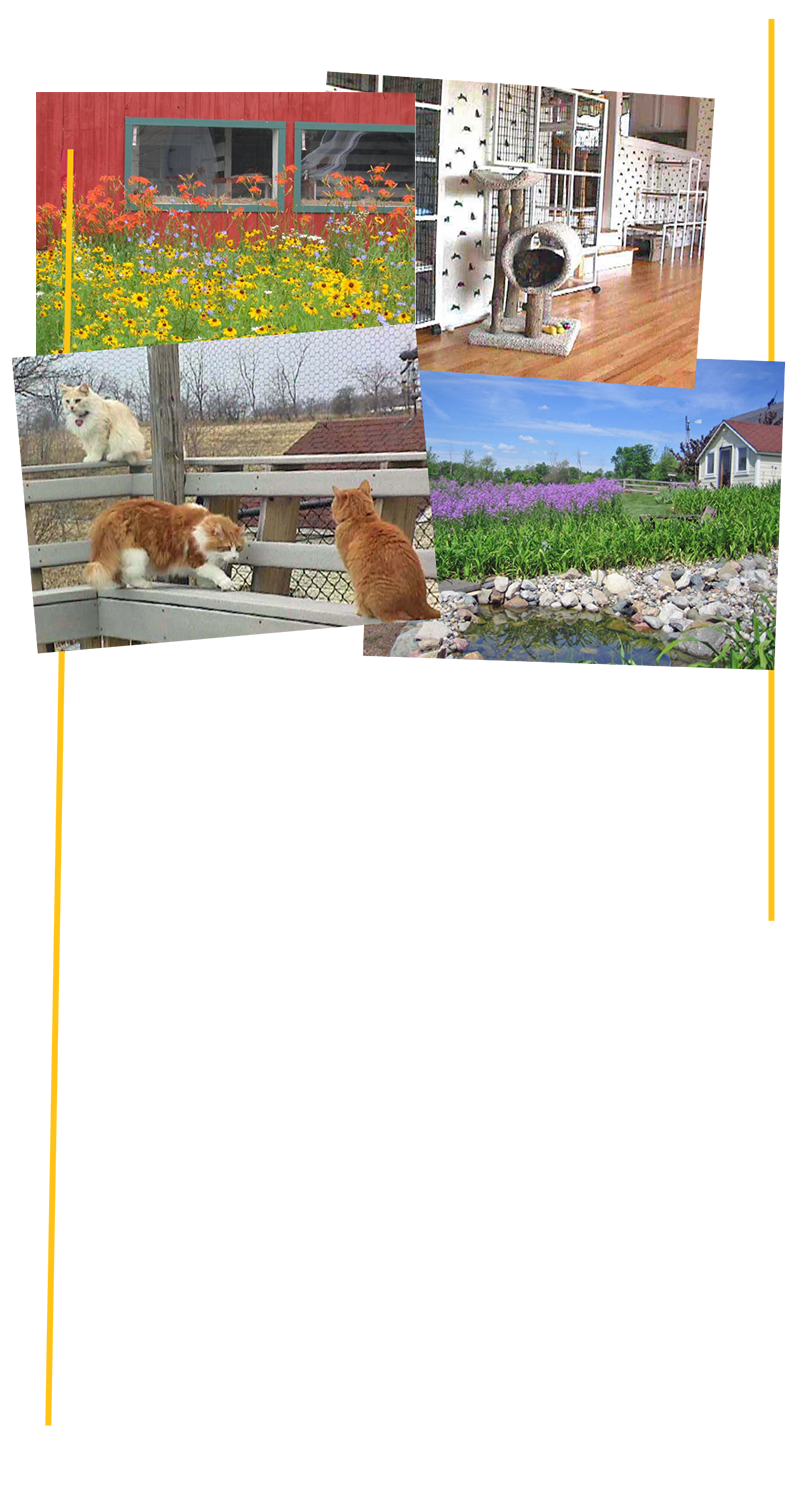 Our Michigan Years
2000-2009
Our for The Love of Cats Programs began in Ann Arbor, MI, in 2000. We wanted to help the cats most at risk of euthanasia when they were surrendered to shelters – those over 10 years old and feral cats that were not adoptable as companion pets.
So, we purchased an antebellum farm in neighboring Saline and converted the house to a cage-free shelter for orphaned teenaged cats. We renovated the barn to house a show-and-tell feral cat colony. A milk house became our trap-loaning center for trap-neuter-return (TNR).  And a creekside sauna was converted to a cat chapel to celebrate the lives of the farm's deceased elderly cats. In parallel, we began a TNR program to assist in-place caregivers to better manage their colonies by providing them with free spay/neuter assistance.
We recognized that the best way we could help the largest number of cats was not through sheltering, but through providing broad-based free-and-local spay/neuter for cats with lower-income caregivers.
The Story of the Farm
The farm became a magnet for cat fanciers. The many volunteers that helped there stayed with the program until its closing in 2005 with many forming friendships that continue today. The companion cats lived in the farmhouse like royalty or were fostered to elderly adults through our Older Cats for Older People program to enjoy one-on-one attention. 
And visitors and volunteers alike who had considered feral cat colonies unconscionable changed their minds when they saw how happy and healthy our show-and-tell colony was with their fenced-in corral to play in and the barn to shelter them.
Yet, as these programs evolved, we realized that no matter how many cats we sheltered, there would always be more we could not. And no matter how many feral cats we fixed, there would always be more unsterilized pet cat abandonments to increase the overall free-roaming cat population.
So, we expanded our free spay/neuter program to include indoor pet cats as a kind of "pre-emptive" TNR. By fixing them, they were less likely to be abandoned outdoors to live (and continue reproducing) in feral cat colonies.
And we made the difficult decision to close the farm and focus all our resources exclusively on spay/neuter.  We discontinued intaking more cats but kept the ones we had. 
Altogether we provided life care or adopted out to forever homes about 75 elderly orphaned cats and about two dozen feral cats. And, from 2000-2009, about 12,000 Michigan cats were fixed for free through our TNR and pet-cat spay/neuter programs. These Michigan years laid the foundation for our current New Mexico programs.